Deliblato Sands and Dubovac Marshes
This unique wilderness comprises 33,000 hectares of steppe and mixed forest growing on the largest area of sand in Europe, once part of a vast prehistoric desert. It is bordered by the Danube, Tamis and Karas rivers.
The Deliblato Sands
is famed for its high degree of endemism, including many unique plants, reptiles and insects. It is also home to one of the greatest variety of mammals in Europe, with such rarities as European Molerats, Marbled Polecats and at least three packs of Grey Wolves.
Dubovac Marshes
is a Ramsar area and a section of the Danube flood-plain, situated at the entrance to Ðerdap gorge. Natural forests, wet meadows and marshes and dry grassland are present.
Birds include:
Glossy Ibis, Bittern, Little Bittern, Squacco Heron, Great White Egret, Spoonbill, Ferruginous Duck, Garganey, White-tailed Eagle, Imperial Eagle, Marsh Harrier, Osprey, Goshawk, Saker Falcon, Scops Owl, European Nightjar, Black Woodpecker, European Bee-eater, Hoopoe, European Roller, Wryneck, Sand Martin (up to 18.000 pairs), Tawny Pipit, Red-backed Shrike, Barred Warbler, Great Reed Warbler, Marsh Warbler, Northern Wheatear.
Dubovac Marshes
harbours a 1000-pair strong heronry consisting mostly of Pygmy Cormorants, Night Herons and Little Egrets, with a few pairs of Grey and Purple Herons and Glossy Ibis.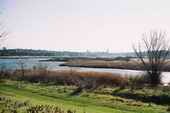 Dubovac sandbanks
harbour the largest Central European Sand Martin breeding colony, with up to 18,000 pairs! Other birds include Ferruginous Duck, Gadwall, European Bee- eater, Red-backed Shrike, Hoopoe, Wryneck and Northern Wheatear, also Tawny Pipit and Barred Warbler.