They have been in Serbia on birdwatch trip and said....
---
From: Christine Crickmore
Sent: 17 December 2012
Subject: Re: FW: After weekend in Serbia
(tour An exclusive Long (eared Owl) Weekend!)
Hi
Thank you for your email and have attached photos taken on the Serbian Owl Weekend.
The whole weekend was a truly delightful memorable experience,due to the dedication and passion for the birds by both guides. The itinery was well balanced with plenty of very good cultural and restarant stops along the way.
It was very hard to find a fault, perhaps the hotel dinner was not so enjoyable, but a minor one. The size of the group was very good and worked well. Maybe if there were more people there may have been an issue with room on the bus for photographic equipment,tripods etc.
I certainly hope to return in the future and thank you for your attention.
Kind Regards
Chris Crickmore
---
From: Janine Lettau
Sent: 10. децембар 2012 19:26
Subject: RE: After weekend in Serbia
(tour An exclusive Long (eared Owl) Weekend!)
Dear Tijana
Many thanks for your email, and apologies for the delay in replying. Please find attached a selection of pictures from the tour.
Everything on the tour went very smoothly and was extremely well organised - thanks to our two excellent guides, Milan Ruzic and David Lindo, and the staff at Magelan. As promised we saw hundreds of long-eared owls as well as lots of other interesting birds, and also had the opportunity to soak up some of the local culture (the visit to the farmstead, where Rada made us very welcome, was particularly enjoyable). We felt very lucky to be with such a friendly and sociable group of people and thoroughly enjoyed everyone's company. The accommodation was first rate and the food in the various hostelries excellent. Overall a highly enjoyable long (eared owl) weekend!
In terms of possible improvements, we can't think of anything significant. The only thing perhaps to consider is whether it might be better to return to the hotel for a while late afternoon/early evening to rest/freshen up before going out for a meal in or near Ecka. Once it got too dark to watch birds (at around 16.00), there was an element of 'killing time' until dinner at 19.00 or later. However, we do recognise that returning to the hotel before dinner might limit the choice of restaurants.
We'll certainly consider the Spring tour and let you know if we decide to join it.
Best regards
Janine Lettau and Clive Pickton
---
"This was an excellent trip, thanks mainly to the combination of tour leader David Lindo and local guide Milan Ruzic which allowed us to see an incredible number of species in many different kinds of locations, whilst still being well looked-after in a relaxed manner. It was also nice to be able to spend significant time in traditional Serbian villages and to interact with the hospitable Serbian people. With the exception of some unavoidable bad weather for a couple of the days the week could not have been any more enjoyable. Overall enjoyment and the incredible value for money means I will definitely consider returning in the future"
Phil Aylen, July 2012
---
"If you want to see plenty of owls, masses of birds of prey and an astounding variety in a short space of time, then Serbia is well worth a visit.
It's a beautiful country and our guides and driver for the trip couldn't be faulted. They were full of local knowledge and enthusiasm and took us to some great out of the way spots for bird and wildlife watching as well as some more surprising locations.
David organised a wonderful trip that is to be highly recommended for both keen birders and enthusiastic amateurs alike."
Clare Evans, July 2012
---
I thoroughly enjoyed my birding tour in Serbia as I saw so many different species of birds in a number of different habitats. As a novice birder, I found our guide Milan a great inspiration as he was so knowledgeable and passionate about all Serbian wildlife. The accommodation, food and Serbian hospitality were excellent and as a vegetarian, I was more than happy with the diversity of vegetarian options offered at each meal.
Helena Daly, July 2012
---
Paul and I would like to thank you for the wonderful week we spent with you in Serbia in April .We were amazed at the variety and numbers of raptors and other species .Hugely impressed with the knowledge patience and humour of our guides thank you all once again.
Paul and Caroline Boak, July 2012
---
Pallid Harrier, wine, Goshawk, song, long legged buzzard, great restaurants, Caspian tern, what a laugh, Ural Owl, dinner and local hooch with the rangers, Middle spotted woodpecker, long eared owls etc, etc, etc. Absolutely brilliant guides …… top Serbian guide Milan and of course the totally knowledgeable and constantly entertaining Urban birder …….David Lindo, what more could you want … a truly fantastic Serbian birding experience … See you in December 2012.
Alan McMahon
---
"I have lots to tell you about my recent trip to Serbia... One of the most impressive things that I noticed last week was the dedication and expertise of the local birders and conservationists that I met. Really good folks who made me very welcome and took me to some special wildlife habitats." November, 2008. Read more... Gerard Gorman, UK.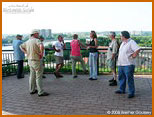 Read trip report from birdwatching tour june/july 2008. here, and also see photos from this tour in Photo Gallery.
---
"My birding mate and I went to the Becej Fishponds and found masses of ducks and plovers, saw Peregrine overhead, and then suddenly we had the king of the skies himself, the huge vulture-like White-tailed Eagle soaring just above us. Robert MacCurrach, UK Read more...

"My trip to Serbia was a revelation: spectacular birding in stunning locations, with a warm welcome and expert guiding from start to finish.I'll be back"!
Mike Unwin, Birdwatch Magazine, UK
Read more...
"The people were great. The personal warmth is something that is not expressed in such a way in our society and I was impressed and pleased." -
H. Blankert, Holland
"My stay in Serbia & Montenegro was very enjoyable, especially the people the climate and the food, not to mention the wildlife which in its diversity was like our country some 50 years ago. I look forward to returning soon". -
G. Laight, UK
Two days Birding in Serbia, April 2007, by
Dorothy Harper
Read more...